Xbox 360 250GB Spring Console Bundle and Live 12-Month Gold Messenger Starter Pack
Be the first to review this item and earn 25 Rakuten Super Points™
Product Overview
Xbox 360 250GB Spring Console Bundle w/ Darksiders II and Batman: Arkham City
The Xbox 360 250GB Console Bundle features two free games - Darksiders II and Batman: Arkham City, and 1 Month of Xbox LIVE Gold. Wi-Fi is built-in for easier connection to the world of entertainment on Xbox LIVE, where HD movies and TV stream in an instant. Xbox 360 is more games, entertainment and fun.
Xbox 360 S Console
The Xbox 360 console is sleek and quiet, with a stylish design that will be the center piece of your home entertainment system.
Xbox 360 250GB Hard Drive
The internal 250GB hard drive allows you to save your games and store television shows, movies, music, pictures, trailers, levels, demos, and other content available from Xbox LIVE Marketplace.
Two amazing games*
Darksiders II: Follow the exploits of Death, horseman of the Apocalypse, in a tale that runs parallel to the events in the original Darksiders game. This epic journey propels Death through the light and dark realms as he strives to redeem his brother War, blamed for inciting Armageddon and the eradication of Mankind. Batman: Arkham City download token: No escape from Arkham City…the sprawling super-prison in the heart of Gotham City, home to its most violent thugs and infamous super villains. With the lives of the innocent at stake, only one man can save them and bring justice to the streets of Gotham City…The Batman.
Built-in Wi-Fi
The Xbox 360 is the only console with 802.11n Wi-Fi built in for a faster and easier connection to Xbox LIVE. Download or stream HD movies, TV episodes, and games from Xbox LIVE Marketplace in 1080p and 5.1 surround sound from anywhere in the house. Compatible with b/g/n networks.
Kinect ready
Kinect makes YOU the controller. With a dedicated, specialized port, the Xbox 360 250GB is built to connect seamlessly with the Kinect sensor— and have you up off the couch and into the world of Kinect in no time.
Xbox 360 Wireless Controller
This award-winning, high-performance wireless controller features the Xbox Guide Button for quick, in-game access to friends and music. It has a range of up to 30 feet to allow you to play all over your living room!
Xbox 360 Headset
Xbox 360 Headset: Strategize or trade taunts while playing games, and chat with your friends on Xbox LIVE.
Xbox 360 Composite A/V cable
Use your Xbox 360 on standard-definition televisions using this connection over traditional composite connectors. Play high-quality audio with the included stereo connector.
Free 1 Month Xbox LIVE Gold membership
Xbox LIVE brings a whole world of entertainment possibility right to your Xbox 360. Play with friends online, and watch streaming movies and TV from Zune and Netflix, all in crystal-clear HD. You'll find loads of your favorite music from Last.fm and the ability to connect with friends on Facebook and Twitter right on the best screen in the house. With this Bundle, you get 1 month of Xbox LIVE Gold included for free.**
Warranty
One year limited warranty on console (90 days on accessories)
*Games inside marked packages, while supplies last. Download Batman: Arkham City with Xbox LIVE; 7.65 GB storage required. Broadband internet, games and media content sold separately.
**Broadband Internet required (sold separately). Games, add-ons, and media content sold separately. Xbox LIVE Gold membership and/or other subscriptions and requirements apply for some Xbox LIVE features (such as Netflix). See xbox.com/live.
Xbox 360 Live 12 Month Gold Messenger Starter Pack with 1 Year Xbox Live, 400 Points, Chatpad and Headset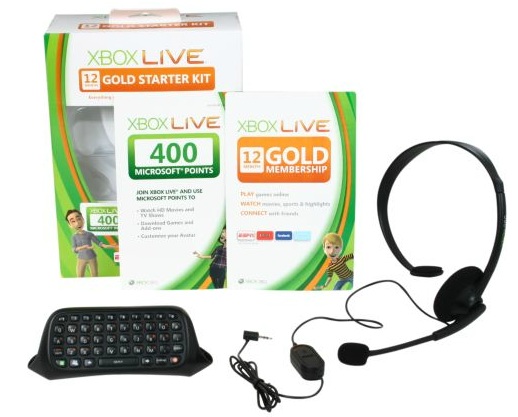 Everything you need to jump into fun with Xbox LIVE! Take your Xbox 360® online for games, HD movies and more
Gain access to a huge array of online features and downloadable content with the Xbox Live Gold 12-Month Starter Kit. The 12-month Gold subscription enables you to team up and compete with friends and other gamers online for exciting multiplayer action. Connect with friends via Facebook and Twitter or communicate directly through in-game voice chat and text messaging. Communication is made all the more simple thanks to the included chat pad and wired headset.
Attach the chat pad to your controller to send text messages easily or use the headset to enable in-game voice chat — essential when you only have a second before the enemy detects your teammate.
This Xbox Live Gold Starter Kit includes a 12-month Xbox Live Gold subscription and 400 Xbox Live Points, granting you access to an abundance of downloadable content. From classic arcade games to downloadable HD movies and TV shows, this membership is your key to a wealth of entertainment options. Gain access to exclusive game content and special sneak-peek game demos to make sure you stay ahead of the pack. The included chat pad and wired headset let you communicate with ease, bringing you further into your gaming world.
What's in the Box
Xbox 360 250GB Spring Console Bundle
Xbox 360 S Console with 250GB Hard Drive
Darksiders 2
Batman Arkham City
Xbox 360 Wireless Controller
Xbox 360 Headset
Xbox 360 Composite A/V cable
Free 1 Month Xbox LIVE Gold membership

Xbox 360 Live 12 Month Gold Messenger Starter Pack
12-Month Gold membership
Xbox 360 Chatpad
Xbox 360 Headset
400 Xbox Live Points
Sold Out
Sorry, you missed the deal!
This product is currently not available.
Promotions & Offers (1)
5% Back* Sitewide with Promo Code REWARDME *See page for details