Learn more about Xbox 360 Live 12 Month Gold Messenger Starter Pack (includes 1 Year Xbox Live, 400 Points, Chatpad and Headset):
Format: Xbox 360
Mfg Part#: CXC-00008
Sku: 218861061
UPC: 885370226577
UPC 14: 00885370226577
Sales Rank: 2339
Product Guides
Click Here for the Microsoft Store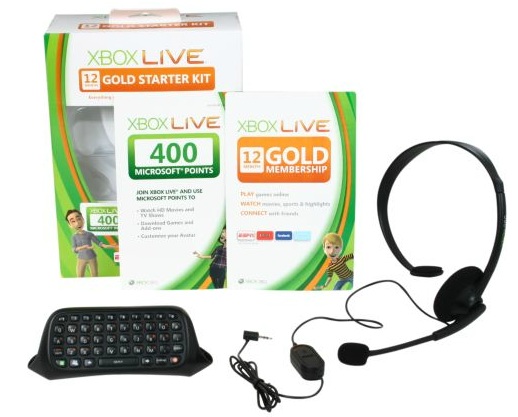 Everything you need to jump into fun with Xbox LIVE!

Take your Xbox 360® online for games, HD movies and more
Gain access to a huge array of online features and downloadable content with the Xbox Live Gold 12-Month Starter Kit. The 12-month Gold subscription enables you to team up and compete with friends and other gamers online for exciting multiplayer action. Connect with friends via Facebook and Twitter or communicate directly through in-game voice chat and text messaging. Communication is made all the more simple thanks to the included chat pad and wired headset.

Attach the chat pad to your controller to send text messages easily or use the headset to enable in-game voice chat — essential when you only have a second before the enemy detects your teammate.

This Xbox Live Gold Starter Kit includes a 12-month Xbox Live Gold subscription and 400 Xbox Live Points, granting you access to an abundance of downloadable content. From classic arcade games to downloadable HD movies and TV shows, this membership is your key to a wealth of entertainment options. Gain access to exclusive game content and special sneak-peek game demos to make sure you stay ahead of the pack. The included chat pad and wired headset let you communicate with ease, bringing you further into your gaming world.