How I Saved More Than $1,600 on My Wedding: Bridal Party Gifts
My fiance, Ryan, and I are planning a wedding in Healdsburg, California, in the heart of wine country. Like so many couples, we're learning that planning a wedding means lots of shopping. Whether it's paper for your invitations or ties for your groomsmen, spending becomes second nature. So, as a bride with a budget she'd like to stick to, I'm obsessed with getting the best deals when I can. Thankfully, Ebates helped me save on so many wedding essentials, such as invitations, decor, attire — even our honeymoon. In this series of posts, you'll get a chance to see exactly how much I was able to save and how.
Weddings can be expensive for brides and grooms. This we know.
The cost for the bridal party to be in a wedding, though not nearly as much, is also high. Asking someone to be in your wedding is a commitment, which is why thanking them for making that commitment (and doing it with a huge smile) is essential.
Giving groomsmen and bridesmaids gifts is one of the best ways to show your gratitude to some of your favorite people. We also wanted to give our parents something special to thank them for all their help (not to mention years of support).
Ryan and I were able to save almost $500 on some really meaningful and fun gifts. Here's how:
Bridesmaids Gifts
With a bridal party filled with sisters and friends, I wanted to make sure every one of them understood they were special to me. Standing up for someone at their wedding isn't the cheapest of endeavors, nor the most convenient. But they were all there for me during the planning process and on the wedding day. It was so fun to spend the early part of the day with my best friends, getting our hair done and telling stupid jokes.
This camaraderie was even more fun when I presented them with a few little gifts. First, these "Mornings Are for Mimosas" racer-back tanks from Design by Humans were perfect for getting ready. They were loose enough to slip over our heads without messing up our gorgeous wedding hair, and they inspired a sort of pride in our pre-noon cocktails. Since the wedding was taking place at a winery, some wine-themed bridesmaids gift ideas were in order. I purchased these etched stemless wine glasses, personalized for each bridesmaid. The wine glasses were 20% off and even more discounted thanks to a BOGO coupon at Things Remembered, which also offers 6.5% Cash Back at Ebates. The savings on the wine glasses was huge, and they turned out to be as adorable as they were useful that day.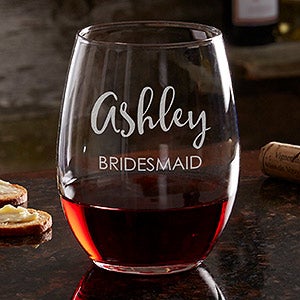 I also wanted a gift that was somewhat nicer and reflected something that was personal to me. I opted for these astrology art prints from Minted.com, which was offering 10% Cash Back at the time I purchased them.
And to top it off, I wrote each bridesmaid a very simple thank-you note with adorable greeting cards from Greeting Card Universe. I thought that, plus all my thanks during the big day, would come close to showing them each how much it meant to have them standing up there with me.
Savings
Ebates Cash Back savings: $30
Total saved on bridesmaids gifts: $100
Groomsmen Gifts
Ryan decided our gift to the groomsmen would be part of their attire for the day. It was also a great way, Ryan pointed out, to make sure they wore the same thing and looked snappy (they did). In the end, the groomsmen's look was one of my favorite visuals of the entire day. The bow ties and leather suspenders came together perfectly for a sophisticated but wine-country-chic look. Plus, going jacketless was the casual touch that helped Ryan's baller suit stand out so well.
Our Cash Back button told us there was a buy-one-get-one-free coupon available at Men's Wearhouse for ties and an additional 50% off additional items — plus free shipping and 4% Cash Back — so we scooped up some classy bow ties for the guys that were perfect for our winery wedding. The tan leather suspenders we purchased from the Belt Outlet — where we enjoyed 5% Cash Back at Ebates — were 25% off and included free shipping, saving us a ton.
Savings:
Ebates Cash Back savings: $15
Total saved at Men's Wearhouse: $140
Total saved at Belt Outlet: $65
Total saved on groomsmen gifts: $220
Parents
Although they weren't technically part of the bridal party, our parents were an important part of the day for us. We believed they deserved a little special recognition, and decided to shower them with a couple gifts to show our love and appreciation.
For both sets of parents, we landed on etched frames from Things Remembered, personalized with a picture of the three of us and a sweet note. The frames were on sale, thanks to a buy-one-get-one-half-off deal at Things Remembered and a 20% off coupon for personalized items I discovered with the handy Ebates Cash Back button in my browser. Then, of course, the store's 6.5% Cash Back saved us even more.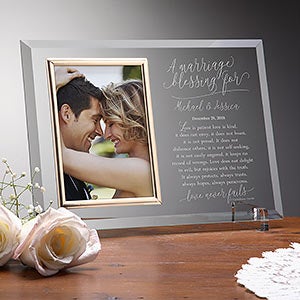 We also wanted to give the moms and dads separate experiences that would relax them and make them feel special. For the moms, we landed on massages. In hindsight, maybe we were thinking more about what we wanted after the wedding. They both loved their local Groupon massage, which we booked for them and scheduled into their visit. Not only were we able to give them the perfect gift, but we also saved a ton. Groupon's deals are no joke, and we saved about half off the regular price of each massage, plus an extra 25% off coupon that was valid for a few days around the time of our purchase and 6% Cash Back.
While the moms were getting pampered, the dads and Ryan and I put their gift to good use: a foursome at the beautiful Napa Golf Course. They couldn't have been happier, and we were happy to get some quality time with them — a gift for us as much as for them. Again, Groupon's amazing built-in discounts gave us an incredible deal on the round, and an extra 20% off.
Savings
Ebates Cash Back savings: $20
Total saved at Groupon: $45
Total saved at Things Remembered: $40
Total saved on parents' gifts: $85
Total saved on bridal party gifts: $470
To sum up all these incredible deals, we saved $470 on bridal party and parents' gifts. These gifts came close to expressing our thanks to some of the most important people that made the day so wonderful.
Next up, I'll recap all my wedding deals. Stay tuned to learn how much I was able to save on our wedding overall.
Chelsea Iversen
Chelsea is a freelance writer living in San Francisco, specializing in lifestyle and travel. When she can't get on a plane herself to visit somewhere obscure (Montenegro anyone?), she's training her sweet puppy and taking visitors to wine country with her fiancé. She loves being able to share ideas and stories proving that doing good and having fun can go hand in hand.
Join The Conversation