Samsung SSD 850 EVO 2TB 2.0TB SATA III 2.5" 3D V-NAND Internal Solid State Drive MZ-75E2T0B
Buy and earn 799 points ($7.99)!
More Buying Options From

$799.25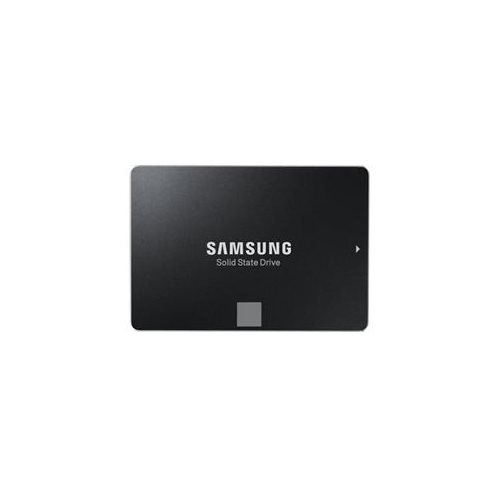 New
Sold by

THEBESTDEALSFORYOU
$799.25
+ FREE SHIPPING
VIEW MORE
---
Product Description
Description:
Upgrade virtually every aspect of your computer's performance with Samsung's new 850 EVO, designed with state-of-the-art SSD advancements including 3D V-NAND technology. As the next generation beyond the bestselling 840 EVO, you'll get the 850 EVO's new 3 dimensional chip design that enables superior performance, greater reliability and superior energy efficiency so you can work and play faster and longer than ever before.

3D V-NAND Technology
Samsung's innovative 3D V-NAND flash memory architecture breaks through density, performance, and endurance limitations of today's conventional planar NAND architecture. Samsung 3D V-NAND stacks 32 cell layers vertically resulting in higher density and better performance utilizing a smaller footprint.

Incredible Read/Write Speeds

Achieve incredible read/write performance to maximize your everyday computing experience with Samsung's TurboWrite technology. You can obtain up to 1.9x faster performance than the award-winning Samsung 840 EVO. The 850 EVO delivers class-leading performance* in sequential read (540MB/s) and write (520MB/s) speeds. Plus, gain optimized random performance in all QD for better real-world performance.

Enhanced RAPID mode

Samsung's Magician software enables RAPID Mode for up to 2x faster performance* by utilizing unused PC memory (DRAM) as a high-speed cache. The newest version of Samsung Magician supports up to a 4 GB cache on a system with 16 GB of DRAM.

Guaranteed Endurance and reliability

The 850 EVO doubles the endurance and reliability compared to the previous generation 840 EVO and features a class-leading 5 year warranty. With enhanced long-term reliability, the 850 EVO assures longterm dependable performance of up to 30% longer than the previous generation 840 EVO.
Features:
Drive Interface SATA
Drive Interface Standard SATA/600
Maximum Read Transfer Rate 540 MB/s
Maximum Write Transfer Rate 520 MB/s
Product Type Solid State Drive
Manufacturer Part Number MZ-75E2T0B/AM
Manufacturer Samsung
Product Model MZ-75E2T0B/AM
Product Name SSD 850 EVO 2.5" SATA III 2TB
Product Series 850 EVO
Brand Name Samsung
Weight (Approximate) 2.24 oz
Drive Type Internal
Height 0.3"
Width 2.8"
Depth 3.9"
Drive Width 2.5"
Storage Capacity 2 TB
Encryption Standard 256-bit
Limited Warranty 5 Year
Specifications
| | |
| --- | --- |
| Brand | Samsung |
| Manufacturer | Samsung |
| MPN | MZ-75E2T0B/AM |
| Base SKU | SamsungSSDEVO2TB850 |
| UPC | 887276081731 |
---
---
---
Frequently Asked Questions
What are my shipping options for this product?
Shipping Options:
Standard -
Usually delivers in 3 - 10 business days after shipment
Expedited -
Usually delivers in 2 - 6 business days after shipment
---
How do product returns work?
Return Policy:
Shipping Damaged Products
Failure to notify 3C_Expert of product damage within 24 hours of receipt voids all shipping damage claims.

Shipping Damaged Products should be refused. If Shipping Damaged Products are accepted inadvertently, You must mail 3C_Expert Customer Support WITHIN THE FIRST 24 hours of receipt to report damage and be eligible for damage claim. This is necessary for 3C_Expert to file a shipping damage claim on behalf of customers. 3C_Expert is not liable for any monies lost when the carrier refuses shipping damage claims.

Potentially Defective Products
All Potentially Defective Product claims should be directed directly to the manufacturer or warranty provider for evaluation and warranty support. Refer to the products' individual warranty policy for further information.

99% of initially diagnosed "Potentially Defective Products" turn out to be configuration or compatibility issues and are not "Defective Products".

Non-Defective Products ( "Buyers Remorse" )
Please apply for an RMA at http://www.topram.com/rma.htm
Printers, scanners, projectors, consumables (toner, print cartridges, media, CDR, DVDRW, batteries, paper, office supplies, etc..), software, video displays, gps, and games, TVs and movies are not returnable.

Pre-approved Non-defective products can be returned within 30 calendar days from Rakuten.com Shopping purchase date if returned in original item and package condition for partial item refund if return is received in "new and unopened" manufacturer's condition and able to be re-sold. Returned products are subject to shipping, and restocking charges, or refund rejection as listed below.

RMA Fee Schedule for Returned Item Condition
Single Products returned New, Unopened in perfect condition with all packaging and item materials and manuals that can be resold as new are subject to a 15% restock fee + Shipping cost.

Single Products returned Opened with missing items, packaging or accessories or customer caused item, packaging or accessory damage that cannot be resold as new for any reason will be discarded with no refund.

Single Products returned with missing items, packaging or accessories that we can replace from our stock are subject to the cost of item replacement + a 30% restock fee + Shipping cost.

Failure to receive return of single products within 30 calendar days from Rakuten.com Shopping purchase date will be deemed to be a permanent acceptance of the product. Return is not allowed for any reason after this point. The return must go to our return warehouse with a valid RMA on the label via FedEx, UPS, or USPS with tracking showing pickup on or before 30 calendar days from Rakuten.com Shopping purchase date.

IMPORTANT NOTES
All returns must be approved thru http://www.topram.com/rma.htm Returned product must have a valid RMA number written on the shipping label. Return shipments without valid RMA numbers will be rejected. Customer is responsible for return shipping charges to 3C_Expert's distribution center. Customer is responsible for all risk of loss and damage to products being shipped for return. Fully insure return shipment in case of loss or damage. Return eligibility is for single purchase of product only. Wholesale or bulk purchases (5 or more items of the same UPC number) are not eligible for return. 

Tax Policy:
California state residents are subject to sales tax.
---