Sanus BF16b Basic Foundations Speaker Stand - Wood - Black
Buy and earn 39 points ($0.39)!
More Buying Options From

$39.99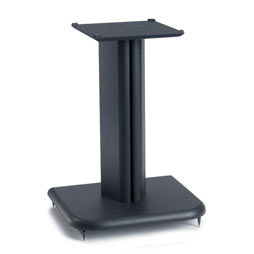 ---
Product Description
Description:
With Basic Foundations, Sanus proves that affordable loudspeaker supports do not have to be devoid of quality, performance and style. Basic Foundations are among the first wood loudspeaker supports to combine furniture grade appearance and up-scale audio performance and blend with any home theater decor or A/V furniture.
The construction begins with energy-absorbing MDF, not particle board. Add to that, features like ABS plastic spikes, a concealed wire path and neoprene speaker isolation pads, and you've got a sound foundation for your speakers. Plus the powder-coated black finish blends seamlessly into most any setting.
Features:
Product Type Speaker Stand
Manufacturer Part Number BF16b
Manufacturer Sanus Systems
Product Model BF16b
Product Name BF16b Basic Foundations Speaker Stand
Product Line Foundations
Brand Name Sanus
Material Wood
Color Black
Height 16"
Width 11.5"
Depth 11"
Total Number of Shelves 2
Specifications
| | |
| --- | --- |
| Brand | Sanus |
| Manufacturer | Sanus |
| MPN | BF16B |
| Base SKU | SANBF16B |
| UPC | 793795260031 |
---
---
---
Frequently Asked Questions
What are my shipping options for this product?
Shipping Options:
Standard -
Usually delivers in 3 - 10 business days after shipment
---
How do product returns work?
Return Policy:
For the first 14 days of your purchase you may return the merchandise for a full money back refund, excluding any shipping charges
No RMA number is required to return an item, simply download and fill out the Return Merchandise form 
All returns must meet our guidelines and include the Adorama or Rakuten.com Shopping Order#s
Returned or exchanged products must be in brand-new, mint condition, and have all original manufacturers packaging, materials and accessories, including instruction booklets, packing inserts, and blank warranty cards.
Merchandise missing the original Universal Product Code (UPC) cannot be returned
The original manufacturer's labeled packaging should be enclosed within an outer shipping box. Please do not write or place shipping labels or stickers on the manufacturer's packaging
Securely package the product and include the filled out Return Merchandise Form and a copy of the original invoice  
Ship the parcel back to us freight prepaid. We do not accept COD or freight collect shipments. We recommend a shipping method that provides tracking and insurance.
Ship to:
Order Processing
7 Slater Drive
Elizabeth, NJ 07206.
Items that qualified for free shipping that are being returned will have our standard shipping charges deducted from refund or credit. The return shipping cost (the cost to send an item back to us) is not refundable.
Please allow up to 8 business days after we receive the package for your return/exchange/refund to be processed. An email confirmation will be sent to you once the return is processed.
Important Note for international customers: Please mark the item as "VENDOR RETURN" to avoid duties and customs.
Items from the following categories may not be returned once opened:
Software
Film
Paper
DVDs and video tapes
Bulbs and flash tubes
Batteries
Ink cartridges
Memory cards
Any item which has been removed from its "blister-pack"
Items from the following categories may not be returned:
Printerscannot be returned once toner, ink or ribbon cartridges have been installed 
LCD and plasma TVs and monitors 20" and highercan not be refused or returned once they have shipped, if refused or returned the shipping and handling charges for both ways will be deducted from the credit, and at our discretion a restocking fee might also be deducted. (Any warranty claim must be taken up with the manufacturer directly) 
Note: Upon delivery, please inspect the TV and insure that it is not physically damaged and in operable condition. DO NOT SIGN the delivery manifest until you have inspected the TV. Once you sign for the item, you are signing acceptance of the product as is. If the merchandise is damaged, please make the notation on the delivery manifest, and have the person delivering the merchandise sign as a witness to the damages.
Underwater photography equipmentcannot be returned once they have been used in water 
Cell phones and smart phones- phones will only be accepted for credit or exchange if they register less than 10 minutes cumulative talk time and show no sign of use, defective phones will be exchanged for the same model only. 
Notebooks and computerscannot be returned or exchanged once opened or unwrapped 
If the above conditions are not met, Adorama has the right to refuse the return or charge a restocking fee.
Tax Policy:
New Jersey and New York state residents are subject to sales tax.
All California state residents are subject to sales tax by Rakuten.com Shopping
Duties and Taxes The recipient of an international shipment may be subject to import duties and taxes, which are levied once a shipment reaches your country and brokerage fees / custom clearance charges which may be imposed by the carrier . These charges must be borne by the recipient; we have no control over these charges and cannot predict what they may be. In the event a shipment is refused and returned, any taxes, duties, custom fees , brokerage fees or shipping charges incurred from this return, will be the responsibility of the customer.
---