CAMCON Military Style Shemagh Keffiyeh Scarf OD Green & Black - 61030
20% Back until 10/17/2018 11:59 PM - Buy and earn 240 points ($2.40)!
More Buying Options From

$11.99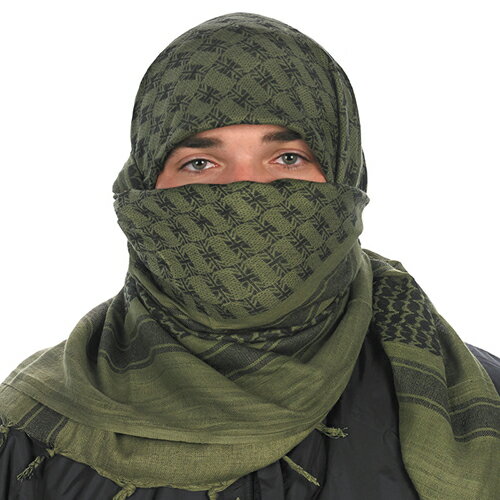 New
Sold by

Mounting Solutions Plus, Inc.
$11.99
+ SHIPPING
---
Product Description
Description:
The CAMCON Shemagh, also known as a keffiyeh, is a wrap-around head covering that is essential for protecting eyes, nose, mouth and neck from sun, wind and sand. They are commonly used by special forces worldwide. Methods of wearing the shemagh vary, but wrapping the scarf around the head and face provides optimal protection from the elements.


Specifications
| | |
| --- | --- |
| Brand | Camcon |
| Manufacturer | Camcon |
| MPN | 61030 |
| Base SKU | Camcon-61030 |
| UPC | 846271000000 |
---
---
---
Frequently Asked Questions
What are my shipping options for this product?
Shipping Options:
Standard -
Usually delivers in 3 - 10 business days after shipment
Expedited -
Usually delivers in 2 - 6 business days after shipment
Two day -
Usually delivers in 2 business days after shipment.
---
How do product returns work?
Return Policy:
Items must be returned in the original manufacturer's packaging. We strongly recommend you keep your packaging for at least the first 90 days after purchase.

• We offer a 30 day return policy on all items. (unless stated otherwise in the listing)
• Video games must be returned unopened (sealed).
• All returns must be in original condition and must include the original packaging and content in tact.
• Returns must be packed in proper packaging to avoid damage to the item or it original packaging.
• For any return request please contact us to receive a RMA number and return instructions. 
• 10% restocking fee may apply.
• Please allow 3-5 business days after we receive your package to process your return.
• Any returns that violate this return policy will not be accepted and will be sent back at customers expense.


The following electronics items must be returned within 15 days of receipt:
Computers
Computer hardware
Printers (including 3D printers)
3D printing supplies and products
Camcorders
Digital cameras
GPS units
Digital music players
Tablets
E-readers
Portable video players
Drones
Video Game Consoles
Video Games

Tax Policy:
Please note that a sales tax of 9.25% will be applied to all orders shipped within the state of California.
---