---
Belmint Shiatsu Foot Massager w/ Built-In Heat Function - Deep Kneading Therapy
Buy and earn 69 points ($0.69)!
---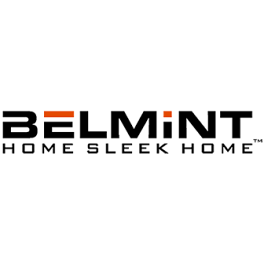 HOME IS STATE-OF-THE-ART IS WHERE THE ART IS Calling New York home, we know what it means to want it all: style, originality, exclusivity, and bragging rights—all while scoring a good deal. That's why we carefully develop each product with an eye for contemporary detail and timeless class. We then work with global resources to bring our designs to reality at a price that feels welcome at home.   Belmint designs and crafts sophisticated kitchen, bath and personal hygiene products that elevate every contemporary space. From essentials to novelties, we build on the best existing designs and the most desirable modern features, introducing cutting-edge technologies and design language that make yours a sleeker place to call home.
Belmint
Ask About This Product
Seller Info
Subscribe
Product Description
Treat Your Feet With This Relaxing Portable Heated Shiatsu Foot Massager
Whether your feet are sore from working all day, suffer from plantar fasciitis or you simply want to relieve your daily stress, this portable foot massager is for you!
Compact and portable, you can take it with you wherever you need. Just lay back, relax and let 18 powerful massage nodes do the work that will have you in heaven. With easy toe-touch control to power on the unit, you'll never need to get up!  
​Lightweight and Easy to Store Design
The small, compact and light design of the foot massager means that you can easily store it in your bedroom, living room or bathroom. Once you are done with the unit, just pick it up and put it in any small space you desire, leaving it ready for the next massage!
Soothing Relief for Painful Plantar Fasciitis
If you suffer from the daily pains of plantar fasciitis, then this massaging machine will do wonders to alleviate the pain and help your feet be at their very best. The deep tissue action of the 18 Shiatsu nodes offers full muscle relaxation and improved blood flow throughout your feet.
Great for anybody that spends their days standing or walking, using the massager every night will have your feet fresh for the next day.
Built-In Heater for Warming Massages
Nothing is better on a cold night than a nice, warm foot massage. With an internal heater that provides you with a warming sensation for the muscles, as well as increasing blood circulation within the foot. Just one push of a button offers an incredibly warm massage experience unlike any other!
Expertly Designed Ergonomic Curve
In order to fit your feet perfectly, the machine was specially developed in a curved manner. This allows for 6 segments of deep-kneading massage nodes to work across all sections of your foot, culminating in an amazingly relaxing massage.
Using the principles of Shiatsu, all of the major acupuncture points of the feet are worked, allowing for an intensive massage that diffuses all tension and stress.
Easy to Use, One-Touch Operation
To offer the most simplistic experience possible, the massage machine is designed with a large, toe-operated power button. This means that you never need to get up from your relaxing position to turn the unit on or off.
Specifications
| | |
| --- | --- |
| Brand | Belmint |
| Manufacturer | Belmint |
| MPN | BEL-FOOT-02 |
| Base SKU | BEL-FOOT-02 |
| UPC | 019962813559 |
---
---
---
Frequently Asked Questions
What are my shipping options for this product?
Shipping Options:
Standard -
Usually delivers in 3 - 10 business days after shipment
---
How do product returns work?
Return Policy:
If we shipped and sold your item, then you can return those items to us within forty-five (45) days of the ship date. This policy does not apply if a different return policy is stated on the item's listing information.

Tax Policy:
You agree that you as a buyer and we as shop owner are responsible for determining the number of sales, use or other taxes that you may owe as a result of your Marketplace purchase. You also agree that as shop owner we are responsible for collecting, to report and to remit any sales, use or other taxes as may be required under applicable law. You agree (a) that Rakuten.com has no responsibility to collect, report or remit sales, use or any other applicable taxes in connection with your purchase, and (b) to fully indemnify, defend and hold Rakuten.com harmless from any and all claims, demands, damages, awards, fines, costs, expenses and liability in any way associated with foregoing. Without limiting the generality of the foregoing, Rakuten.com currently automatically charges sales tax with respect to any marketplace products shipped to California.