---
TENS Unit Electrode Pads, White Cloth Backed, 2x2 Square - 16 pack
Buy and earn 7 points ($0.07)!
More Buying Options From

$9.49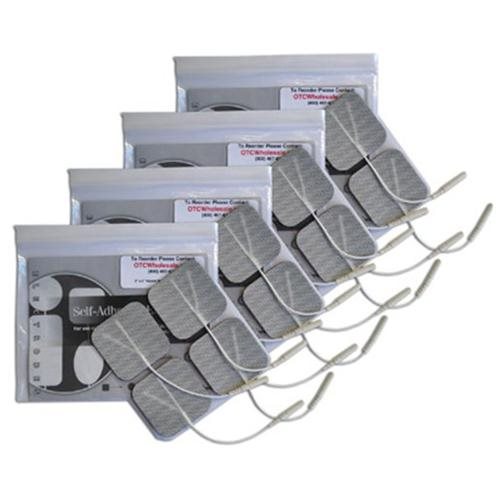 New
Sold by

LB Chiro and Med Supply
$949
+ SHIPPING
---
Product Description
Description:
OTC White Mesh Backed TENS Electrodes 2x2" Square are high quality carbon electrode pads for TENS Units & Muscle Stimulators. These TENS Electrodes feature a white mesh backing for durability and flexibility, and have American Made Gel for maximum reusablity. Get quality TENS Electrode Pads, and get more uses out of your TENS Unit.
Features:
Flexible solid-carbon pad for maximum charge delivery and comfort
Molded wire connector for reliability and durability
Reuseable American Made Gel
White Cloth-Mesh backing for comfort and flexibility
Specifications
| | |
| --- | --- |
| Brand | Current Solutions |
| Manufacturer | Current Solutions |
| MPN | koalaty-e1p2020wc2x4 |
| Base SKU | koalaty-e1p2020wc2x4 |
| UPC | 013964593655 |
---
---
---
Frequently Asked Questions
What are my shipping options for this product?
Shipping Options:
Standard -
Usually delivers in 3 - 10 business days after shipment
---
How do product returns work?
Return Policy:
Your satisfaction with your order is important to us. We offer a 30-day return policy including a 15% restocking fee to cover shipping and processing costs. We cannot accept any product which has been opened, has a broken seal or shows signs of tampering. If you try a product and are unsatisfied with the products performance in some way, please contact the manufacturer to arrange for compensation. Arranging a return with OTC Wholesale is easy. Simply email us to request a return authorization, ship the product to our warehouse with the RMA clearly written on the outside of the package and we will credit your account or send you the product you have requested. Returns cannot be accepted without a return authorization number. You can email us here: CustomerService@OTCWholesale.com. Please include your name and order number in all correspondence.

Tax Policy:
Georgia State residents are subject to sales tax.