Best Buy
About Best Buy Coupons, Deals and Cash Back
Best Buy is a leading specialty retailer of computers and computer accessories, electronics, video games and home appliances. You can find the latest and best deals on popular laptops, quality cameras, iPods, iPads, iPhones, HDTVs and gaming consoles like Xbox, Playstation and Wii, along with savings on all other electronics. Customers will save the most by taking advantage of the Deal of the Day promotions, Best Buy coupons, free shipping offers and holiday sales, so be sure to check out these hot promotions. If you're looking to replace your existing electronics with something shiny and new, like a fast new laptop or crisp-sounding stereo system, check out the deals at Best Buy before looking anywhere else. Find all the electronics you need or want and save big with Best Buy Black Friday deals and bonus Cash Back at Rakuten.
Free Shipping
Free shipping on orders of $35 or more.
Cash Back Facts
Rakuten Members have been cashing in since 1999. Here's what members have earned so far from Best Buy:
$4,063,081
Total Cash Back to date
Shopping Secrets
Get the best deals on the latest technology, accessories and more this holiday season at Best Buy. Use these smart shopping tips while earning Cash Back to really maximize your savings and rewards this season.
My Best Buy Rewards Program
Sign up for the free rewards program to get exclusive offers just for members. The more you spend in a calendar year, the better your perks will be. A basic membership comes with free shipping on purchases over $35 and 0.5 points earned for every $1 you spend, as well as access to special sales and offers. Spend $1,500 in a year and you'll get 30 days to make returns, free shipping with no minimum purchase required, Elite special offers and customer-service access, and one point for every $1 you spend. Spend $3,500 in a year to get 45 days to make returns, free two-day shipping with no minimum purchase required, Elite Plus special offers and customer-service access, and 1.25 points for every $1 you spend. Every 250 points you earn gets you a $5 reward certificate. My Best Buy credit card holders earn more than double the points per tier. Rewards members in the Elite and Elite Plus tiers also get early access to Black Friday sales.
My Best Buy Credit Card
Sign up for the no-annual-fee My Best Buy Visa credit card and choose if you want to earn 5% back in rewards points or get flexible financing options for purchases of $199 and up.
Deals Section Savings
Visit the Deals section on the website to find all the available deals in one place. Find deals by category, including Black Friday and Cyber Monday deals, Outlet deals, a Deal of the Day, Members Offers exclusive for My Best Buy rewards members and other collections of discounted items.
Cyber Monday Savings
Best Buy has Cyber Monday door-busters and deals on all the latest and greatest technology products, appliances, music, movies and tech accessories. Whether you want a deal on a new flat-screen television or you're shopping for stocking-stuffer iPhone accessories for your teens, get the best prices from the comfort of your own home during Cyber Monday at Best Buy.
VIP Rewards Members Get Early Black Friday Access
As a reward for its VIP Rewards Members — those in the Elite and Elite Plus level of the rewards program — Best Buy offers early access to the best Black Friday sales. If you have VIP status, don't forget that you get to shop early. If you aren't at that status this year, plan to get there before the next holiday season to get the best deals earlier than others.
Select Black Friday Deals Available Early for Everyone
Best Buy makes some of its best Black Friday sale items available early for everyone. Get notifications for these deals by downloading the Best Buy mobile app, following them on social media or signing up for emails.
Gamer's Club Unlocked Deals
A membership in the top-rated Gamers Club Unlocked costs just $30 for two years, and it comes with incredible perks. You'll get 20% off new video games, including pre-orders of new releases; 10% off pre-owned video games; double My Best Buy points earned on qualified orders; exclusive member offers; special coupons; and a 10% bonus trade-in credit when you trade in old games. This is the perfect gift for a gamer.
Price Matching
Best Buy will match any local or online retailers' advertised price to ensure you always get the best price.. You can also get a price adjustment if something you buy gets marked down during your return and exchange period. To request a price match or price adjustment, talk to customer service either in-store or by telephone.
Mover's Coupons and Student Coupons
Sign up for Best Buy's Mover's Program to get special offers just for movers, as well as tips and tricks for packing, moving and unpacking your home. Students can get Best Buy discount codes and special deals when they sign up for Student Deals in the Student Hub.
$100 off Geek Squad
Watch for valuable coupons like $100 off Geek Squad services so you can get the installation, repair, servicing and assistance you need with your new technology purchase while saving money.
Shop Now at Best Buy with
Best Buy Coupons, Promo Codes & Cash Back
Cash Back Terms
Exclusions: Cash Back is not available on Best Buy gift cards, warranties, Laptops, Tablets, Desktops, Video Game Hardware (including Virtual Reality Hardware), Point of Sale Activation (POSA) Cards, Apple Branded Watches, Apple AirPods, Apple MacBooks, iPads, Desktops, and Phones (eg. Apple iPhone X), and transactions on third party (i.e. non-BestBuy.com) websites or properties, even if such transactions occurred as a result of a Customer clicking a link from a Best Buy Property.
Special Terms: Cash Back is not available on high volume/ reseller orders as defined by Best Buy.
Posting Time: Cash Back will be automatically added to your Rakuten account tomorrow.
Best Buy Top Deals
3.0% Cash Back on everything in the ad!
Only when you shop by clicking through the Weekly Ad, you'll receive 3.0% Cash Back with no exclusions. Stack your savings with deals and Cash Back on laptops, appliances, televisions and more! Don't miss out on Cash Back savings on big brand names.
Shop the Deals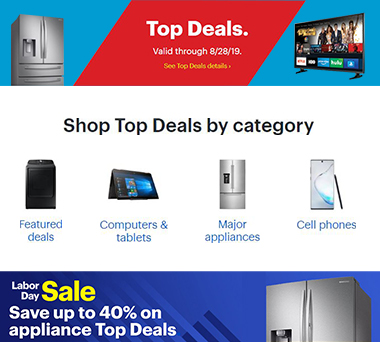 In-Store Offers
Special In-Store Cash Back Coupon - Scan your coupon code and get 1.0% Cash Back when you shop in store at Best Buy.

Enable Cash Back